End of June this year I got laid off. My department and position at a startup moved from Barcelona to Paris. After no holidays for a year, it was a good moment to calm down a bit. What I did – saw my family, went on holidays and thought about the next move. Former clients and my network offered permanent positions or freelance jobs. Some of them were people I really would love to work with, highly professional, cool companies and with a different take on the job. I set myself a deadline of one month – until then I would evaluate all the ideas I collected over the last months. This is how my list looked.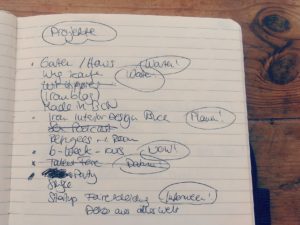 As you perhaps can see from my list there is an emphasis on Iran and on issues related to traveling, nature and fair trade. Plus one idea for an anti-tinder single party – yet to come, haha! To make up my mind I started researching, met people from my network who are working at startups or are entrepreneurs themselves.
The most important thing in these days was: Is the project financially doable? Excel was my home and break even my mantra. I will give 200% to make the book a success but actually, I would already be happy just to cover all my expenses in exchange for a lot of valuable business and life experience.
About being 30
A friend texted me: 'The book, that's a project you can do now'. The idea that it could be a good product to start with before pursuing bigger ideas emerged in me. I wouldn't need a huge investment and infrastructure but I would be responsible for all parts of the business. The feeling of excitement and freedom started to grow.
And one Monday I just woke up and knew I would do it. If not now then when? I am 30 years old with some savings, a woman who at some point wants a family but also has a big desire to learn more about business. I sometimes wake up and have these epiphanies – it's as if my brain and heart would talk during the night and come up with the perfect solution the next day. My gut feeling told me it was the right thing to do.
The decision
So the decision was taken and I declined all the offers I got and stopped talking about new ones. Now I had to plan the next months with a certain seriousness and urgency to be able to survive without income. First thing I knew, I needed longer holidays. My life had been quite chaotic the last two years and I hadn't been on holidays for a year. For Europeans that's terrifying and for me even more. I anticipated that the coming months would be more work and stress.
So I wanted to create a cushion of sleep and relaxation I could use over time. So me and my flatmate went on a five weeks road trip through Portugal and Spain (a story for itself) and being away for so long resulted in what I expected: After cleaning my mind to a point where it resembled a blank page I was impatient to get back to Barcelona and work on the book. Goal accomplished!